Over the past 43 years
I have been asked these very prevalent questions, "What was it like learning Kenjutsu from the great sword masters in Japan for all those years?" Others asked, "Can you give me a few pointers on how to master a technique?" Some even wanted to discover the essence of swordsmanship and asked, "What do you mentally think about during practice?
For years I approached these questions by cutting through the mysteries of swordsmanship explaining all the various nuances, subtleties and fine details involving sword technique. These questions were usually followed up by demonstrating steadfast proficient techniques gained through decades of my cutting and sparring experience.
Most of those questions asked could and can be answered by identifying physical techniques, movements, and transitions. Understanding the mental aspects of Japanese swordsmanship is extremely challenging to identify with. Therefore, I have given you mental images shown below, which I hope will offer you a much better insight into the mindset of any student of Japanese swordsmanship.
Not even the stark, bone-chilling wooden floor of the aging creaking dojo on this cold winter morn could break my direct concentration. Arising from a deeply focused meditation of what might have been minutes or hours, I feel purified and centered. Simple indeed – but this task has become mine.
I bow long and deep with my weapon resting at my side. Then in a deliberate manner, raise my sword in front of me, once again bowing long and deep. Then, with a sense of finality, holster the weapon in my hakama as I have always been instructed to do.
In my Seza position on the chilled floor, I slowly lean forward with my hands positioned to draw my sword. The moment my hands move from my side my left hand grasps the scabbard as my right hand grasps the handle. It was at this point when I become one with my weapon in both mind and spirit.
At the speed of light, my right leg surges forward and my drawn sword whistles upward deftly hunting for its mark. Anyone observing at this point knows that only a disciplined student of the sword could have harnessed mind and body necessary for that. The second cut is even more devastating. First upward, parting the cold air of the dojo with sonic-boom speed. Then downward, with a simple, severing accuracy.
Following centuries' old tradition, I then ritually return my sword into my sheath. I again bow with the happiness of knowing I am in harmony once again.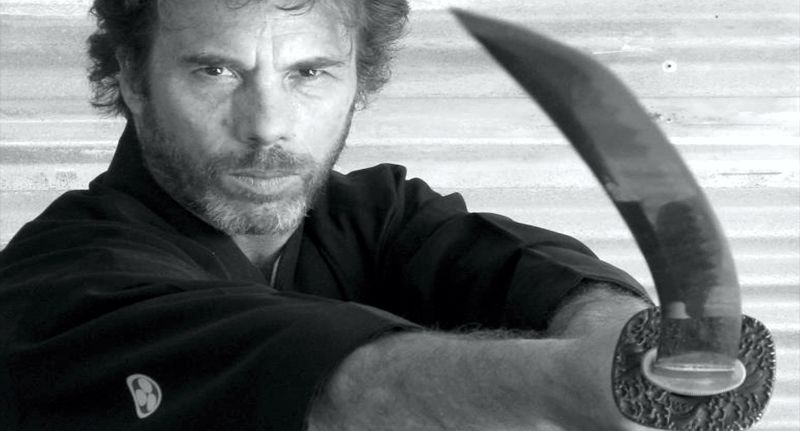 Below are my most valued honors, accolades, and awards
Black Belt Magazine Hall of Fame (Weapons Instructor of the Year 2004)
Universal Martial Arts Halls of Fame (Master of the Sword Award)
Action Martial Arts Magazine Hall of Fame (Contributions to the Martial Arts)
World Karate Union Hall of Fame (Master of the Year)
Masters Hall of Fame (Lifetime Achievement Award)
United States Martial Arts Hall of Fame (Kenjutsu Master of the Sword)
Official Karate Magazine Award (Golden Shuto Award)
USA Martial Arts Hall of Fame (Iaido Master)
Masters Hall of Fame (Budo Spirit Award)
World Wide Martial Arts Council (Grandmaster Achievement Award)
Martial Arts History Museum (Excellence in the Martial Arts 2014)